Отчет о социально ответственном развитии
Доступные отчеты
В отчете Альфа Лаваль по социально ответственному развитию представлены данные за 2017 календарный год; основное внимание уделено значимым аспектам и активностям, касающимся ключевых заинтересованных сторон. В отчете описаны политика, риски и результаты реализации значимых положений, касающихся экологической безопасности, социальной ответственности, трудовых ресурсов, прав человека и антикоррупционной деятельности.
С 2011 г. Альфа Лаваль является подписантом Глобального договора ООН (UN Global Compact), и ее деятельность полностью соответствует изложенным в нем десяти принципам социальной ответственности бизнеса. Данный отчет представляет собой ежегодно публикуемую информацию Альфа Лаваль Global Compact Communication on Progress.
Our Business Principles describe our aspirations regarding our environmental, business integrity (ethics), social and transparency performance.
Отчет о социально ответственном развитии 2017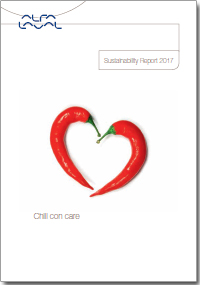 The report highlights how our products and solutions can contribute to sustainable development and how we implement our Business Principles.
Certain matters discussed within this website (including any documents posted or incorporated hereon) are forward-looking statements. Forward-looking statements are neither historical facts nor assurances of future performance. Instead, they are based only on our current beliefs, expectations and assumptions regarding the future of our business, future plans and strategies, objectives, projections, anticipated events and trends, the economy and other future conditions. Forward-looking statements can be identified by words such as: "anticipate," "intend," "plan," "goal," "seek," "believe," "project," "estimate," "expect," and words of similar import. Because forward-looking statements relate to the future, they are subject to inherent uncertainties, risks and changes in circumstances that are difficult to predict and many of which are outside of our control. Our actual results and financial condition may differ materially from those indicated in the forward-looking statements. These factors should be considered in evaluating any statement contained herein or made on our behalf, and you should not rely on any forward-looking statements. Any forward-looking statement made by us on this website is based only on information currently available to us and speaks only as of the date on which it is made. We undertake no obligation to publicly update any forward-looking statement whether as a result of new information, future developments or otherwise.
WE SHALL NOT BE LIABLE TO YOU FOR ANY LOSS OR DAMAGE WHICH MAY BE INCURRED BY YOU, INCLUDING BUT NOT LIMITED TO LOSS OR DAMAGE AS A RESULT OF ANY RELIANCE PLACED BY YOU ON THE COMPLETENESS, ACCURACY OR EXISTENCE OF ANY CONTENT ON THIS WEBSITE, OR ANY CHANGES WE MAY MAKE TO SUCH CONTENT IN THE FUTURE