Carbon capture, utilization and storage
Carbon capture utilization and storage (CCU/S) will be one important approach for putting us on the path to sustainable development. While small-scale CCU plants have been around for decades, large-scale facilities are becoming more common. Once captured, CO2 is typically stored in geological formations, preventing its emission into the atmosphere. However, in many industries, there are also solutions to re-use the captured carbon as a way of boosting productivity – and thereby profitability. One example is enhanced oil recovery (EOR) where CO2 captured is injected into oil wells to increase pressure and thereby yield.
No matter which approach you take, efficient heat exchanger technologies are fundamental to making CCU/S commercially viable. Alfa Laval has been an integral partner in the development of numerous pre- and post-combustion CCU/S installations in various industries. With our broad portfolio of heat exchangers, we support customers to meet the demands of this energy-intensive process, maximizing CO2 capture while minimizing steam consumption and utility requirements.
Accelerating cost-effective carbon capture
Alfa Laval heat exchanger technology has played a central part in over half of the world's CCU/S plants. Our unique Alfa Laval Packinox plate-and-frame heat exchangers are enabling the development of sites that will facilitate the possibilities of carbon capture at large economies of scale. Read this story to learn more about the role heat transfer plays in carbon capture and how we are working with major process licensors and end-users to make it possible.
Carbon capture with least opex and capex
Alfa Laval shared its expertise in recommendations on how to optimise the mass and heat balance of the process and equipment designs of a typical post-combustion CO2 capture unit.
Our solutions
Alfa Laval has a broad portfolio of heat exchangers to meet the energy-intensive demands of CCU/S applications. We can help you maximize energy recovery in a range of duties, including for lean/rich interchangers, the largest heat recovery duty in the process. We also offer solutions for minimizing energy and cooling water needs, while maximizing CO2 capture efficiency and reducing the cost for the compressor package and other process equipment.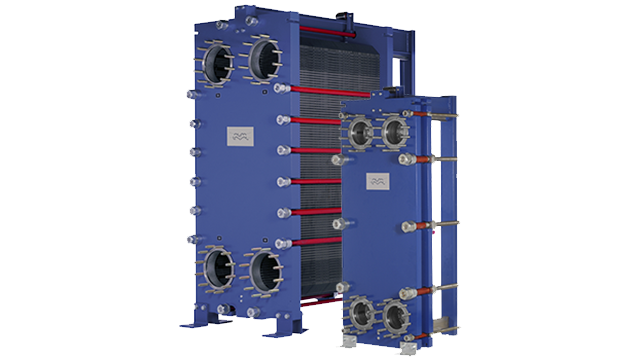 Alfa Laval WideGap
WideGap gasketed plate-and-frame heat exchangers are tailor-made for low pressure condensation, taking advantage of a larger than normal channel gap to minimize pressure drop on the condensing side. Its unique design makes it possible to maximize condensing with the lowest possible amount of vapour going to the compressor. This reduces investment cost and power consumption in the compressor package. WideGap is therefore well suited to the specific stripper condensation services in carbon capture processes.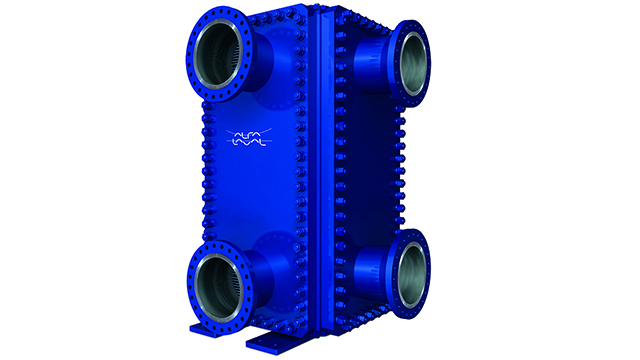 Alfa Laval Compabloc
Operating as reboilers in solvent stripping and regeneration services all around the world, Compabloc is a technically proven solution that offers a wide range of advantages over traditional kettle or thermosiphon shell-and-tube heat exchangers. With its small footprint and flooded weight, Compabloc ensures minimized installation cost, while the low hold-up volume can reduce solvent inventory by up to 20%. What's more, the possibility to operate with a lower steam saturation pressure and temperature, and with no dead zones, keeps solvent degradation to a minimum.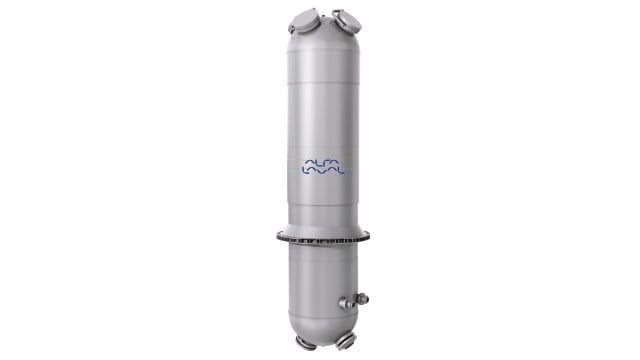 Alfa Laval Packinox
A Packinox heat exchanger is ideal for the duties where maximum energy recovery is required. This unique heat exchanger makes it possible to design the most efficient processes, using only a single heat exchanger with minimum plot space. And Packinox's welded construction offers the longest operating intervals and the safest solution for minimizing the risk of solvent leaks.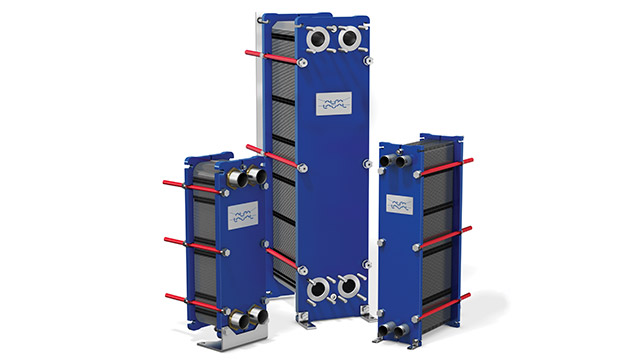 Alfa Laval gasketed plate-and-frame heat exchangers
Our industrial line of gasketed plate heat exchangers is suitable for duties where high, cost-efficient heat recovery is required. They are also excellent for reducing cooling water consumption. With a design for long operation and minimal maintenance requirements, they set all new standards of efficiency, reliability and serviceability.
Alfa Laval Niagara Wet Surface Air Coolers
Niagara Wet Surface Air Coolers (WSAC®) are custom-built, closed-loop cooling and condensing systems that combine high performance, low operating costs, a compact size and reliable operation. Using air as the cooling media minimizes process outlet temperatures, which further minimizes the amount of vapour going to the compressor stage, while keeping it at a higher density. This ensures a low investment cost in the compressor package.
Экологически чистая энергия
Партнерство в целях устойчивого развития
Свяжитесь с нами, чтобы узнать больше
Свяжитесь с нами сегодня, чтобы получить дополнительную информацию о решениях для устойчивого развития.