HYAC hybrid air cooler models
Alfa Laval HYAC Single Zone (SZ)
The Single Zone model is intended for installations where temperature fluctuations in the ambient air cause insufficient cooling in traditional air-cooled heat exchangers.
An Alfa Laval HYAC solves the problem by switching between two operating modes: dry cooling and wet cooling, depending on the ambient temperature.
By only engaging the wet cooling mode when required, during hotter periods, both water consumption and installation space is minimized, while ensuring correct output temperatures.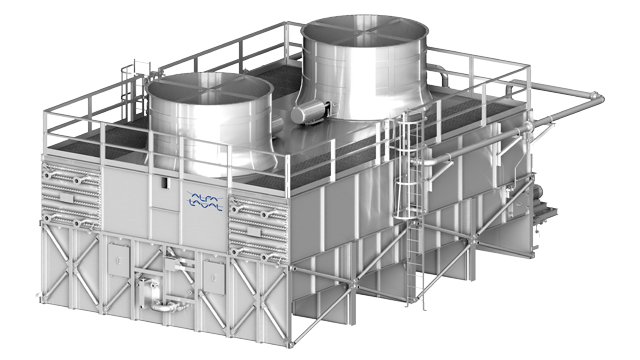 Alfa Laval HYAC Dual Zone (DZ)
The Dual Zone model is used in plants where increased cooling capacity is required, e.g. when expanding production capacity. The first cooling zone in a HYAC DZ operates as a traditional air-cooled heat exchanger and the second zone as an evaporative cooler.
Thanks to the second zone, the cooling capacity per installed area is significantly higher if compared to a traditional air-cooled heat exchanger system, yet with a much lower water consumption than a cooling tower.
The design with two cooling zones allows for hotter process inlet temperatures and simultaneously provides plume mitigation on the evaporative cooling zone.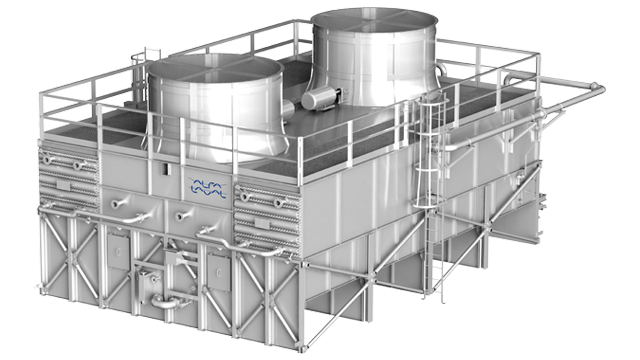 Fully tailored to your requirements
All Alfa Laval HYAC systems are engineered to order and fully customized to fit your performance requirements and operating conditions perfectly, resulting in high return on investment.
Materials – Tube bundles are available in traditional carbon steel, stainless steel, as well as in more exotic alloys and titanium in case of corrosive media.
Equipment standards – If you have plant standards for different types of equipment, such as control systems, pumps, and valves, we are happy to build your HYAC system using your preferred brands.
Multiple cooling loops – With a HYAC system you can cool several process media simultaneously in one unit by installing parallel tube bundles for the different media. This can have a very positive effect on CAPEX.
Capacity – HYAC coolers are available in all sizes from small, skid-mounted units to large, field-erected systems.
Minimal water consumption
Both single and dual zone HYAC systems are optimized for minimal water usage. Thanks to the design of the tube bundle and spray nozzles, a HYAC system can operate on water of low quality, making it possible to recycle the cooling water many times.
It also makes it possible to use treated wastewater, blowdown water from a cooling tower or sea water instead of fresh water.